Bagadus - a panorama video system for sport analysis
In this master project, we aim to further develop BAGADUS which is currently in use at Ullevaal Stadium for the National soccer team and at Alfheim stadium for Tromsø IL.
Bagadus is a full system ranging from capturing data from cameras to delivery of individual camera angles and sequences to end-users. This includes parallell and distributed processing on CPUs and GPUs, high-speed interconnection networks, computer vision and video management, usable user interfaces in browsers and mobile apps, etc. Thus, there are many opportunities for an interesting master topic, both for single students and groups.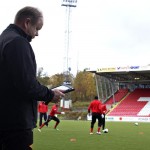 Bagadus is already operational and in use. The system consists of a lot of different components, and we more or less touch all layers of a software stack from low-level drivers to apps on the mobile phone. There are still, however, several possible projects that can be performed to improve the system. Some examples include:
Player / ball tracking in a video
Player pose estimation
Efficient export of virtual camera videos
Social networking within a team to share and discuss video events
System administration
etc.
For more information, please see for example:
http://mlab.no/blog/2000/11/bagadus/
Publisert
28. juni 2016 10:41
-
Sist endret
28. juni 2016 10:41